...
Make sure your Bookmarks or Favorites (depending on the browser) bar is open. Click on the bookmarklet and drag it into the favorites/bookmarks bar at the top of your browser. If asked whether to install it, choose yes.
In Google Chrome
Click on the three vertical dots in the upper right corner of the browser window, and from the pull down menu, choose More Tools. From that menu, choose Extensions.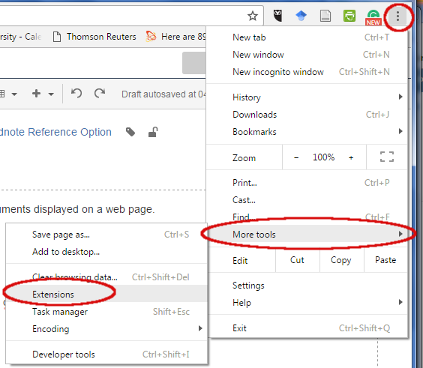 Image Removed 
At the bottom of the list of Extensions you have installed on Chrome, click Get More Extensions
 

Image Removed
in the Chrome To add the Endnote helper extension to Google Chrome, go to the Google Chrome Web store: https://chrome.google.com/webstore/category/extensions
In the Chrome Web Store search for Endnote and select Capture Endnote Reference. To install it, click on the Add to Chrome button next to it.
...