Skip to end of metadata
Go to start of metadata
Contents:
GenderWatch is a full-text database of popular and scholarly material on women or gender from the late 1970s on. Publications must focus specifically on these topics to be included: individual articles on women or gender from more general publications, such as American Historical Review or JAMA: Journal of the American Medical Association, are not included. Full-text of items is included if the original publisher has given permission.
Searching:
Generally, enter your search terms in "Words in articles." You can combine terms using the operators and, or, and not.  If you have a distinctive phrase, enclose it in quotation marks: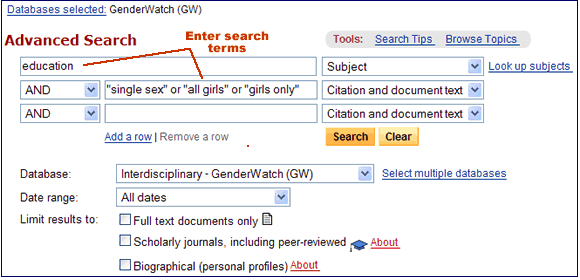 To truncate, use an *:

To limit your search to more scholarly material, below the initial search boxes, select JOURNAL using the arrow beside the dialog box for "Type of Publication."
To limit your search to current materials, in the "Date of Publication" box, enter a beginning date, including month and day:

Displaying:
Search results will display in a list. Use "Sort" to display items by date.


If necessary, your search can be narrowed or limited to specific types of sources:


Click on the title of an item to see the full entry.
Printing or Downloading:
Select records to print by clicking in the box by the item in the List Display screen.


Click on "Print/Export" and select the desired options. Under "File" on the article frame, select "Print" to print or "Send Page" to send the document to your email account.
More Information:
Consult "Help" on the top right-hand corner of the screen when you are using GenderWatch.