Skip to end of metadata
Go to start of metadata
Contents:
The MLA International Bibliographyindexes journals, books, and papers pertaining to scholarly research (excluding book reviews) in literature and language from 1926 to the present.
Getting Started:
Explore the various buttons available. These buttons include a subject Thesaurus to properly identify search terms, and a listing of names of author treated as subjects.



 
You can search by entering terms in the search boxes, choosing the Boolean links ("and", "or", "not") between boxes to suit, and clicking Search. (Notice that personal names should be entered with the last name first:  cather willa.)
Narrowing your search: 
The limits have a variety of uses in restricting your search to the sort of items you wish to use, such as journal articles (see under "source types"), or items with specific subject foci. You can also restrict results to those items available as directly linked full text, but this will eliminate MANY articles our library owns either in full text in other databases or as physical copies.  You may want to exclude dissertations.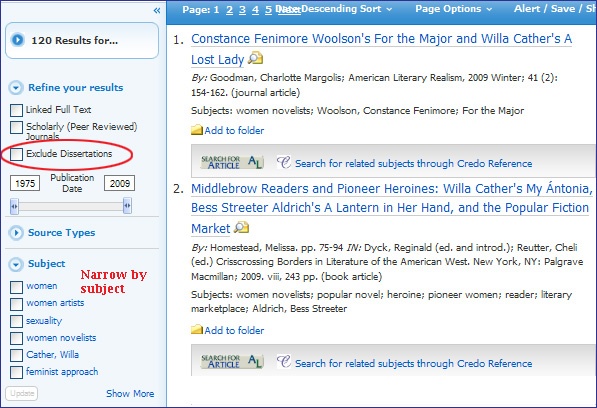 It's often helpful to look at the subject terms assigned to items that look on target for you: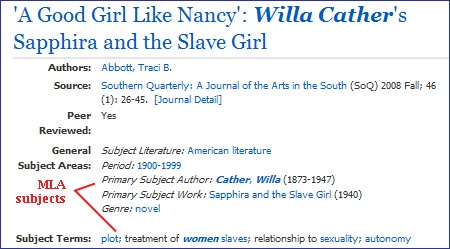 The subject headings may help you think about other terms to use, either narrower or broader.
It is often useful to use the thesaurus as well to explore alternative terms to search. Click Thesaurus at the top of the search screen, and type a term for your topic in the Browse box: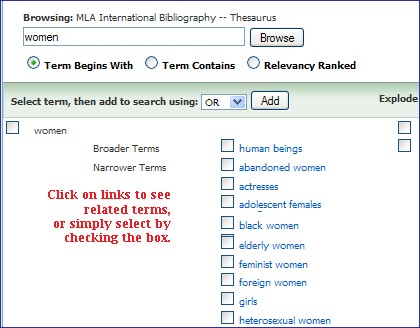 Then, click an underlined subject to see the thesaurus entry. Click the checkboxes to choose as many terms as you wish to use, then click Add to move the terms into your search.
Combining Searches:
To combine searches, click Search History, check the boxes for the searches you want to combine, choose and or or, and click the add button to combine the results and place them in the search.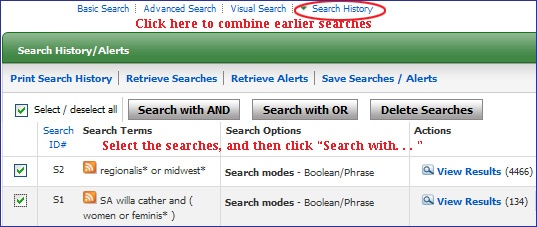 Retrieving the items: 
MLA is not a full-text database, although it does have links to some full-text material.  To check to see if we have the journal articles or books that you want, click on the

in the database.  If the source is not available electronically, click on "Search the catalog by journal title" - even if what you need is a book or part of a book, it will search the Drew Library Catalog to see if we own the material in print.  Questions on that?  See our tipsheet.
The guide was updated on 8/13/10.