Skip to end of metadata
Go to start of metadata

---
Computers Bolster Drew Reference Services
"I need articles on the impact of welfare reform on unemployment rates for single mothers. Oh, and I really need them today." "I have to write a short paper on Chaucer and morality. It's due the day after tomorrow." "Congress was supposed to vote on a transportation bill this morning. What was the outcome?" Questions like these once led to discouraged users and frustrated librarians, but those days are long past, and our options are now more.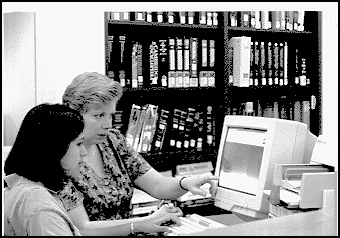 Reference Librarian Jody Caldwell guides graduate student Elena Byrne in the use of new electronic resources
Electronic indexes have been providing flexible searching for years, with the possibility of combining topics and specifying document types. The Drew Library is continually expanding the number of indexes we provide, with indexing ranging from religion to politics, from American history to America today. But new resources, going beyond listing articles to actually supplying the articles themselves, are also accessible. ProQuest Direct Academic Research II, JSTOR (humanities journals), and Lexis-Nexis Universe let users search for articles in over a thousand magazines, newspapers and journals, and print or download the articles in one seamless process. Congressional Universe provides full-text access to bills, reports, hearings, congressional debates, and a wealth of other information. The information that used to take hours, days, or sometimes weeks to get to our students may now be available the instant it is needed.
Even such traditional sources as Encyclopaedia Britannica are exploiting the flexibility and immediacy of electronic formats. Britannica Online,the web version of Encyclopaedia Britannica, is not only easier to search than the paper edition often was, but it is reaching outside its own borders and providing links to reliable sources of information provided by other scholars and organizations, helping its users distinguish facts from ephemera on the Internet.
Not everything worthwhile is in bytes, of course, and much of our electronic world is available only at a hefty price. But the speed, convenience and flexibility of these new formats make them enormously popular with students and faculty, and the Library is increasingly exploiting the exciting potential of electronic information.
Jody L. Caldwell
Head, Reference Department 
Gifts to the Library
Toward the end of last summer, William R. Huff began talking to us about our needs for books in several subject areas of particular interest to him and to his daughter Jennifer, then entering her fourth year at Drew. Our conversations resulted in Mr. Huff's most generous gift and pledge to support the purchase of books, over a five-year period, in mathematics and computer science, psychology, biology, and economics. This gift, intended to support the undergraduate curriculum, will boost collections in these areas to the level found in other highly selective undergraduate colleges.
At the biennial Library Friends Dinner in January, we were delighted to make the acquaintance of Fred Lee Barber whose interest in helping young people to improve their understanding of world affairs and recent history resulted in a most imaginative gift.
Mr. Barber has made it possible for us to purchase a number of CD-ROMs including Who Built America?: From The Centennial Celebration of 1876 to the Great War of 1914; Landmark Documents in American History; and The Beat Experience.
We want to thank the many other contributors whose gifts to the Book Endowment Fund related to the Friends' event. We want to note in particular a contribution to the fund in memory of Charles Scribner, Jr.
We have received useful gifts in kind from Stanley L. Jaki, and from Frank R. Ostertag in the form of tapes and an index of lectures of Carl Michelson who was a faculty member in the Theological School.
We were very sad to hear of the untimely death of Margie Head, magna cum laude '90, and were very touched by a contribution from her Memorial Fund established "to celebrate her life, to recognize her love of education, and to give thanks to Drew University and those who helped prepare her to live in our world."
The Director's Corner
The title of our column suggests a warm and cozy nook where one might curl up with a good novel. While we do indeed have a remarkable collection of literature, world-famous Methodistica and other special collections as well, we are necessarily focusing these days on our up-to-the minute electronic developments. The computer is intruding itself into every aspect of our work and our services. Within the past few weeks, for example, we have added significant full-text journal resources, begun installing an electronically-based security system, and enhanced our Interlibrary Loan operation with the capability of sending and receiving scanned text. We are adding workstations to our public areas with growing frequency, and are planning as many electronically-assisted Library instruction classes as our facilities can support. And we in the Library, working with a University-wide task force, are beginning a planning process to anticipate future needs in information technology.
To prepare ourselves for the profound changes in library functions that these technological developments will cause, we have begun reorganizing ourselves administratively. Like information-based organizations, we have moved to a team structure that emphasizes communication among diverse functions and enables rapid change in services to suit the evolving needs of users. As is usual with the team structure, we are refining the concept as we go along, adapting its basic principles to our unique needs. During the transition, we are working harder than ever at balancing old and new responsibilities, but we are beginning to see the benefits in a better general understanding of the framework into which individual tasks fit. Library personnel have demonstrated unflagging resilience and dedication to the Library's mission throughout this process.
To celebrate the old, as well as the new, we will be expanding our Library Friends program in coming months to include approximately four lectures, receptions and other events per year. All are invited to join us in an ongoing, stimulating examination of books, literacy, and libraries.
Deirdre C. Stam
Director 
Grant Funding to Improve Access to Humanities Research Materials
Thanks to the Gladys Krieble Delmas Foundation, the Library has been able to explore ways of making its humanities research materials more accessible to potential users. This project has several parts.
One activity is to compile collection-level descriptions of our rich and varied research materials, for publication on our web page and in brochure form, in order to let our users know about primary research materials.
Another activity partially supported by the grant is to improve the listing and housing of our extensive collection of 19th century pamphlets.
And yet a third function is to work directly with faculty to improve their skills in using our electronic resources for humanities research purposes. We welcome inquiries from faculty about this service. Jody Caldwell is coordinating this part of the program, (973) 408-3481.
Library Friends Expand Activities
Since 1994, Friends activities have centered on a biennial gala dinner to benefit the Book Endowment Fund. These events have been so well received that the Friends have decided to expand their program to about four events per year, consisting of lectures, openings, receptions and other activities related to books, literacy, and libraries. This expansion is timely in light of the University's new master's program in the History of the Book. The Library expects to coordinate its activities with that program, beginning with a lecture series sponsored by the Gladys Krieble Delmas Foundation. Membership in the Library Friends is open to everyone interested in our programs.
Fall Library Exhibits
| | |
| --- | --- |
| September | Faculty publications |
| October | Cabibbeana: follow-up to Multicultural Awareness Week in September. |
| November | Alumni Art: Photography by Horst Staudner, CLA '88 |
| November-December | Selections from our Rare Book and Special Collections. |
| December-January | Student-curated exhibit. |
Future exhibits will feature environmental studies at Drew and volunteerism. We will continue to display student and alumnae/i art work and work based on Drew International Seminars and other international experiences by Drew students. We welcome suggestions for other exhibits! Contact Suzanne Selinger at (973) 408-3472.
---
About Visions
VISIONS
NEWSLETTER OF THE DREW UNIVERSITY LIBRARY
Deirdre C. Stam
Drew University Library, Madison, NJ 07940
(973) 408-3322 ascrimge@drew.edu
PHOTOGRAPHS: Paula Cameron
THIS ON-LINE EDITION: Anne L. Noss
A complete online archive of past issues of Visions
can be viewed at:https://uknow.drew.edu/confluence/display/Library/Visions+Library+Newsletter+Archive
VISIONS is a semi-annual publication.
© Drew University Library