Skip to end of metadata
Go to start of metadata
Please refer to the Macs at Drew page for general information about this service.
Connecting to Drew's wireless network is similar to connecting with most other wireless networks. Your Mac should automatically see and connect to Drew's wireless network so long as your AirPort card is turned on. The most up to date information can always be found by searching for these topics at http://www.apple.com/support/.
To see if you are connected to a wireless network, click the AirPort icon on your desktop as shown on the right.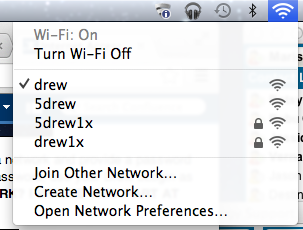 The check mark indicates which wireless network you are connected to. Drew's primary wireless network is called "drew".  In some locations, the drew1x network is available, which offers 802.1x authentication.
The "drew" network 
This network does not require login information to use. It allows access to the internet and Drew web services available from off-campus, providing the same access you would have at any public WiFi hotspot. 
To connect to this network, simply choose it from the list of available networks.
The "drew1x" network
This network should be used if you need to reach internal Drew services such as network printers or shared network drives.
Click the AirPort icon at the top of your desktop to open the menu.
Choose drew1x.
Enter your Drew credentials (username and password).
The drew1x network is not available in all locations on campus at this time, so configure your computer to access both networks. 
Checking the status of your connection and troubleshooting
Please see the section appropriate to you at Internet Access.