...
Once you have enrolled in Duo Security, you will be required to complete the second step of authentication whenever you see a uLogin form. You can log in from any computer but you will need to approve the login using one of the phones (or hardware token) that you have enrolled in the system. 

Image Modified
Simply enter your uLogin ID and password as usual and Duo will automatically use the Default method to log in. If you have enrolled a smartphone, Duo will send a Push message to the first smartphone listed and prompt you to approve the login using the Duo Mobile app. If you do not have any smartphones on your account, Duo will make a regular telephone call to the first number and you will be prompted to approve the login by pressing any key on your phone. 
...
uLogin, Your Way! Duo supports a wide-variety of different devices for authentication. Learn more about how to log in using your preferred method. 
Adding devices, reactivating the Duo Mobile App, or changing the order of devices for authentication. By logging in to the Two-Factor self-service site (drew.edu/duo) and clicking Manage Devices, you can reactivate the Duo Mobile app, add a new device, or change the order of devices registered to your account.  Learn more about managing your devices from Duo's documentation.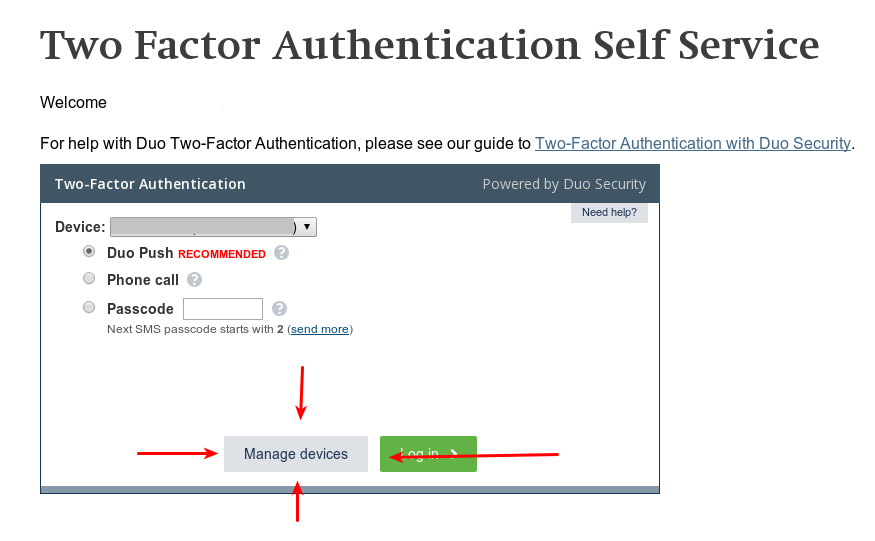 Image Modified
Syncing Your Drew Email to Your Phone, Tablet, or Other Programs
...
You may obtain your current Device Password at any time by visiting the self-service site (drew.edu/duo). For security reasons, you will be prompted to perform two-factor authentication again even if you have already logged into uLogin. Information about your device password is displayed towards the bottom of the page:

Image Modified
We recommend selecting Enable Notifications so that you will receive an email automatically when your device password is about to expire and when it has been changed automatically (in the image above, this selection was already made, so the box reads Disable Notifications). 
...