Skip to end of metadata
Go to start of metadata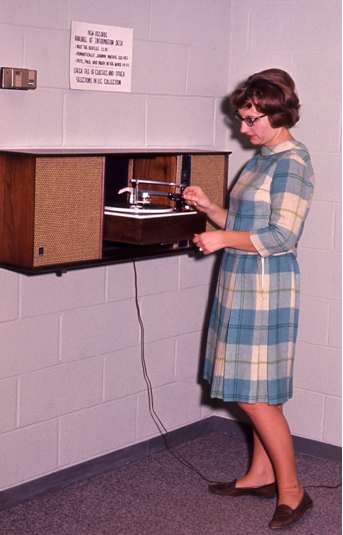 Drew University Archives
36 Madison Avenue
Madison, NJ 07940
Phone: 973-408-3532
Fax: 973-408-3770
http://www.drew.edu/library/special-collections/university-archives

Also available in PDF
Summary Information
Creator
Drew University. 
Title and dates
Slide Collection, 1964-2007
Abstract
The Slide Collection contains images taken by the Publications Office of campus activities, students, faculty, buildings, and other aspects of Drew University life.   While predominantly slides, the collection contains some CDs, as indicated, beginning with Box 28.
Size
28 linear feet (20 binder boxes, 8 page boxes) 
Location
Drew University Archives
Madison, NJ* *
Language of materials
English.
Scope and Content Note
The Slide Collection represents a photographic look at Drew University. There are images of faculty, students, alumni, staff, student organizations, campus scenes, buildings, speakers, lectures, and other events related to Drew University. Notable images include the Barber Shop Controversy, Martin Luther King, Jr., Barbara Bush, George Bush, Dave Chapelle, Dick Cheney, Deepak Chopra, Hillary Clinton, Elizabeth Dole, Al Franken, Henry Kissinger, Colin Powell, Alan Shepard, and Mike Wallace.
Arrangement
The Slide Collection is arranged by subject. The subject headings were created by the Publications Office from their original organization.
Access and Use
Access
The Slide Collection is available for research.
Restrictions on Use and Copyright Information
One scan may be made of each document for the purpose of research. Permission to publish must be obtained from the Drew University Publications Office and/or University Archivist. Researcher responsible for further copyright restrictions.
Acquisition and Appraisal
Provenance and Acquisition
Received from the Drew University Publications Office through 2007. Additional material received in 2015.
Related Materials
Related Archival Materials
Buildings and Campus Features.
Faculty and Staff Biography.
People and Events.
Student Photographs.
University Relations. 
Processing and Other Information
Processing Information
This collection was processed by D'Arcy Sarnelle and Cheryl Oestreicher in 2007.  The finding aid was written by Cheryl Oestreicher in 2007 and updated by Kim Magnell in 2016.

Descriptive Rules Used
Finding aid content follows the guidelines suggested by Describing Archives: A Content Standard.
Language
English.
Preferred Citation
Identification of item; Date (if noted); Slide Collection, Box Number; University Archives, Drew University Library, Madison, New Jersey
Subject

Headings
Drew University.
Contents List
Box

 

Subject

Date

1

 

Academics – Archaeology

Undated

 

 

Academics – Audio/Visual

1975-1982

 

 

Academics – Botany/Environmental Biology

1987-2000

 

 

Academics – Chemistry/Science

1987-2002

2

 

Academics – Chemistry/Science

1987-2002

 

 

Academics – Classrooms

1986-1996

3

 

Academics – Math

1964-2002

 

 

Academics – Music

1987-1988

 

 

Academics – Observatory

1994-1997

 

 

Academics – Research Institute of Science Emeriti (R.I.S.E)

1995-2001

4

 

Academics – Theatre/Dance

1966-2003

 

 

Academics – Visual Arts

1984-2003

5

 

Academics – Miscellaneous

1986

 

 

Alumni – College of Liberal Arts Portraits

1995-2000

6

 

Alumni – College of Liberal Arts Portraits

1995-2000

 

 

Alumni – Far Hill Races

1988

 

 

Alumni – Graduate School Portraits

1999

 

 

Alumni – Theological School

1966-2000

7

 

Buildings – 12 Campus Drive

1995-2000

 

 

Buildings – Alumni House

1988

 

 

Buildings – Asbury Hall

1964-2000

 

 

Buildings – Asbury Statue

1964-2005

 

 

Buildings – Athletic Fields

1987-1988

 

 

Buildings – Aztec Stairs

1992

 

 

Buildings – Baldwin Gymnasium

1984-1988

 

 

Buildings – Baldwin Hall

1955-1998

 

 

Buildings – Bowne Gymnasium

1964-1966

8

 

Buildings – Brothers College

1977-2005

 

 

Buildings – Brown Hall

1998

 

 

Buildings – Carriage House/Child Development Center

1996-2000

 

 

Buildings – Commons

1983-1989

 

 

Buildings – Cornell Library (reproductions)

1966

 

 

Buildings – Craig Chapel

1974-1998

 

 

Buildings – Dangra Farms

1989

9

 

Buildings – Davies House

1989

 

 

Buildings – Dorothy Young Arts Center

2003

 

 

Buildings – Drew Sign

2000

 

 

Buildings – Embury Hall

1984-1998

 

 

Buildings – Faulkner House

1982

 

 

Buildings – Foster Hall

1998

 

 

Buildings – Gateway

1966-2000

 

 

Buildings – Gilbert House

1998

 

 

Buildings – Hall of Sciences

1964-1990

 

 

Buildings – Hannan House

Undated

 

 

Buildings – Haselton Hall

1964-1997

 

 

Buildings – Health Center

1997-1998

 

 

Buildings – Hoyt-Bowne

1964-2001

10

 

Buildings – Hurst Hall

1998

 

 

Buildings – Interiors

1976

 

 

Buildings – Kirby Theatre

1986-2000

 

 

Buildings – Lewis House

1996

 

 

Buildings – Library/Methodist Center

1964-1993

11

 

Buildings – Library/Methodist Center

1964-1993

 
 
Buildings – Library/Methodist Center
2002

 

 

Buildings – Little Brook Farm

1965

 

 

Buildings – Madison House

1995-2001

 

 

Buildings – McClintock Hall

1998

 

 

Buildings – Mead Hall

1976-2005

12

 

Buildings – Mead Hall

1976-2005

13

 

Buildings – Pepin

1977-1998

 

 

Buildings – President's House

1988-2000

 

 

Buildings – Riker Hall

1992-1998

 

 

Buildings – Rogers House

1966

 

 

Buildings – Seminary Hall

1964-2000

 

 

Buildings – Simon Forum and Athletic Center (including Tennis Courts and Sherman Plato Young Field. See also Baldwin Gymnasium.)

1994-2001

14

 

Buildings – Sitterly House

1995-2001

 

 

Buildings – S.W. Bowne/Great Hall

 

15

 

Buildings – Sycamore Cottage

1995-1999

 

 

Buildings – Tilghman House

1966-1985

 

 

Buildings – Tolley/Brown

1983-1998

 

 

Buildings – Townhouses

1992-1998

 

 

Buildings – University Pub/University Center

1964-2000

 

 

Buildings – Welch/Holloway

1961-1998

 

 

Buildings – Wendel Hall

1961-1998

 

 

Buildings – Wesley House

1965-2000

 

 

Buildings – Miscellaneous

1966-1984

 

 

Campus Scenes – Aerial Shots

1981

16

 

Campus Scenes – Fall

1964-2000

17

 

Campus Scenes – Fall

1964-2000

18

 

Campus Scenes – Fall

1964-2000

19

 

Campus Scenes – Fall

1964-2000

20

 

Campus Scenes – Fall

1964-2000

21

 

Campus Scenes – Spring and Summer

1964-2002

 

 

Campus Scenes – Winter

1966-2000

 

 

Commencement

1964-2000

 

 

Details and Stills – Artwork

1991-1994

 

 

Details and Stills – Hands

1979-1989

 

 

Details and Stills – License Plate

1982

 

 

Details and Stills – Local Companies

1983

 

 

Details and Stills – Methodist Archives

1980-1990

22

 

Details and Stills – Miscellaneous

1982-2001

 

 

Drew Slide Show

1978

 
 
Events – Asian Cabaret
2001

 

 

Events – Awards

1993

 

 

Events – Black History Month

2001

 

 

Events – Centennial Events

1966

 

 

Events – Cheetah Conservation

2001

 

 

Events – Chrysanthemum Queen

1967

 

 

Events – Community Day

2000

 

 

Events – Convocation

1978-2000

 

 

Events – First Annual Picnic

1977-1988

 

 

Events – Hawk Watch

1996

 

 

Events – Korean Festival

1996-2001

 

 

Events – Martin Luther King, Jr.

1964

 

 

Events – MTV and Drew

1993

 

 

Events – Parents Weekend

1993

 

 

Events – Raritan Articulation Signing

2000

 

 

Events – Receptions

1965, 2000

 

 

Events – That Medieval Thing

1995-2001

 

 

Events – World Cup

1994

 

 

Events – Miscellaneous

1964

 

 

Exhibits – African Heritage

2000

 

 

Exhibits – AIDS Quilt

1995

 

 

Exhibits – Dorothy Young Art Show

1997

 

 

Exhibits – Textiles at Multi-Cultural Awareness Week

1999

 

 

Faculty – A-M

1994-2003

 

 

Faculty – N-Z

1991-2001

23

 

Faculty – Historical Portraits

 

 

 

Faculty – Wives

1963-1967

 

 

Faculty – Miscellaneous

1963-2001

 

 

Films – "So Fine"

1981

 

 

Graduate School Events – Arts and Letters

1984-2000

 

 

Graduate School Student Groups

1990-1999

 

 

Graduate School Students Indoors

2002

 

 

Graduate School Students Outdoors

1994-1998

 

 

Habitat Chapter in Newark

1995

 

 

Internships – Courtney Miller, Merrill Lynch

2001

 

 

Internships – NBC

Undated

 

 

Internships – Sarah, Art Museum

2001

 

 

Internships – Sony

1998

 

 

Internships – Stephan, Bear Stearns

2001

 

 

Internships – Miscellaneous

1995-2001

 

 

Lectures/Special Guests

1964-2000

 

 

Media Resource Center – Historical

1975-1982

 

 

Newark Tutoring Project

1996

 

 

Off-Campus Programs – Art Semester

1980-2001

 

 

Off-Campus Programs – Brussels Semester

1968-1984

 

 

Off-Campus Programs – Drew International Semester

Undated

24

 

Off-Campus Programs – London Semester

1964-2000

 

 

Off-Campus Programs – New York City

1983-1998

 

 

Off-Campus Programs – Students Volunteering

1998

 

 

Off-Campus Programs – United Nations Semester

1965-1995

 

 

Off-Campus Programs – Wall Street Semester

1996-1999

 

 

Off-Campus Programs – Washington D.C.

1979-2001

 

 

Off-Campus Programs – West Africa

Undated

 

 

Presidents

1964-1999

 

 

Special Academic Programs – E.O.S.

1993

 

 

Special Academic Programs – Governor's School

1996

 

 

Sports – Baseball

1981-2001

 

 

Sports – Basketball

1987-2001

 

 

Sports – Cheerleading

1974

 

 

Sports – Cross Country

1982-2000

 

 

Sports – Cycling

1985-1995

 

 

Sports – Equestrian

1994

 

 

Sports – Fencing

2001

 

 

Sports – Field Hockey

1976-1998

 

 

Sports – Frisbee

1986-2000

 

 

Sports – Lacrosse

1974-1999

25

 

Sports – Martial Arts

1978-1983

 

 

Sports – Rugby

1973-1997

 

 

Sports – Soccer

1974-2001

 

 

Sports – Softball

1993-2001

 

 

Sports – Swimming

1994-1998

 

 

Sports – Tennis

1993-1995

 

 

Sports – Miscellaneous

1982-1987

 

 

Staff

1996-2000

 

 

Students – Drew Radio and TV

1986-1998

 

 

Students – Events/Gatherings

1998-2001

 

 

Students – Inside

1986-2001

 

 

Students – Janet Wong, Jeopardy

2000

 

 

Students – Organizations

1998-2000

 

 

Students – Outside – Fall

1994-2001

26

 

Students – Outside – Fall

1994-2001

 

 

Students – Outside – Spring

1994-2001

27

 

Technology and Computers

1984-2001

 

 

Theological School – Activities

1999-2002

 

 

Theological School – Alumni

1968-1989

 

 

Theological School – Awards Ceremonies

2000

 

 

Theological School – Church Services

1994-2000

 

 

Theological School – Outreach

1996

 

 

Theological School – Special Effects

1983-1987

 

 

Theological School – Students – Indoors

1989-1998

 

 

Theological School – Students – Outside

1994-1998

 

 

Theological School – Portraits

1996-1999

 

 

Theological School and Graduate School Portraits

1989-1994

 

 

Trustees and Special Friends

2000

 
 
Miscellaneous
1967-1985
 
 
 

 

28
1
Calendar, Drew 10/02-Bob Handelman Images, #02-109 (

Includes RISE, Seminary Hall, Art Students, and more)

2002
 
2
Hot Shots (

Includes Dorothy Young Center, Bob Simon, Smith House 1988&1996, and more)

1988-2003
 
2.1
Hot Shots (

continued)

1994-2003
 
3
Theological School Photos (digital images on CD, 6 discs with thumbnail printouts and Publications Department notes)
2001-2007
 
4
Judi Benvenuti, photographer (Includes Mead Hall Gala 1992)

late 1980s, and
1989-1992

 
5
Drew Fall Coverage, 10/02-Bob Handelman Images, #02-110; 35 chrome and color proofs, contact sheets, notes
2002
 
5.1
Drew Fall Coverage,10/02-Bob Handelman Images (continued)
2002
 
6
Drew 5/7/2003-Bob Handelman Images, #03-039 Item 14871-14875, (some images dated 2002)
2002-2003
 
7
Bob Handelman, Fall 2005; Gold Quest, 5/06, and Fall 2006 (digital images on CD, 4 discs with thumbnail printouts)
2005-2006