Skip to end of metadata
Go to start of metadata
To export references to another citation software, go to the Format tab.
You can export all your references, only those in a particular group, or use the search function to make a "Quick List" to export certain references.
To Create a Bibliography
Make sure you have a group or a "Quick List" with the items you want on the bibliography.
Under the Format  tab, click on "Bibliography".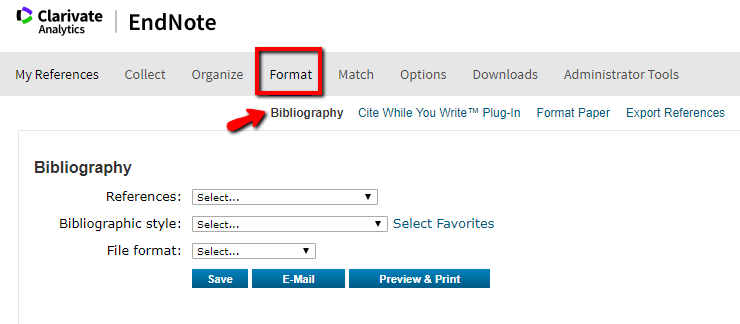 In the References section, choose the group you want to export.
In the Bibliographic style section, choose the Bibliography style, such as "APA 6th", "MLA-Annotated" or "Chicago 15th A" (to limit the list of styles to ones you actually use, you can click on "Select Favorites" and select only the styles you want to display.)
In the File Format, choose HTML,  or RTF (rich text format). To retain the correct formatting for Word or other word processors, we recommend choosing RTF.
Click Save to save the file locally, (Or Email to send it; to just print out a copy, choose Preview and Print).
Once you've created the bibliography and saved the file to your hard drive, you should be able to open it with most word processors.
To export to a particular software:
Under the Format tab, choose "Export References"




In the References section, choose the group you want to export.
In the Export Style, choose the software type you want to export to. To export to a software that isn't in the list, choose "Tab Delimited"-- most software will allow you to import tab-delimited files.
Choose "Save", "Email", or "Preview and Print".  If you are exporting to a program that you have on the machine you are currently using, "Save" is your best bet.
Import the file into the software using the software's capabilities.