Skip to end of metadata
Go to start of metadata
Any time you click on a link that currently opens Outlook to send an email (for example, from the Drew Directory), the browser needs to know what email program you are using in order to open a "Compose Email" window. Now that we have switched over to Google Mail, you'll need to make sure that your browser points to your Drew Google Mail account to send email.
By default, the browser will choose the email program defined by the operating system. You can override this setting in Firefox or Chrome as outlined below, but the changes will only apply to links you click from within the browser. 
Please remember: If, after clicking on a mailto link, you see a login page that says Google but not Drew, only type in your Drew email address (no password). This will bring you to a uLogin screen, where you can enter your username and password (getting a Duo prompt if signed up), or directly to the compose window if you are already logged in to iChain.
Change the default mail setting in Firefox
This will enable Firefox to choose your Gmail account when you click on any link (within Firefox) that should point to email.
Open Firefox and click the Open menu icon in the upper right corner.
Select Options.
In Options, choose the Applications Tab and locate "mailto" in the list under Content Type:
Pull down the menu where it currently says "Use (mail service) ..." and Select "Use Gmail". This will cause any email links to open a new tab to Gmail in Firefox.*
*Note: If you use Google Chrome to access your email, click here for alternative instructions.
Instead of choosing "Use Gmail", you will want to choose "Use other..."
In the Select Helper Application window, choose Browse.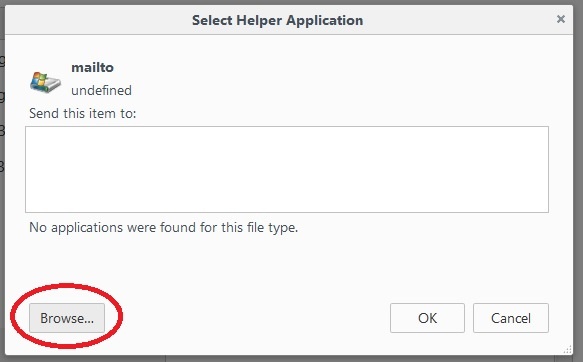 Open the Google > Chrome > Application folders. Select "chrome" and click Open.
Close the Options tab. 
Change the default mail setting in Google Chrome
Log in to your Drew mail account.
Look for a double grey diamond at the right end of the URL box, before the bookmark star. Click on this icon.*

Choose the radio button in front of "Use Drew University Mail".
Click Done.
*Click here if you do not see the double grey diamond.
To access Chrome's handler settings, copy and paste this text into a new browser tab or window:
chrome://settings/handlers
Toggle the option next to "Do not allow any site to handle protocols". It will then read "Allow sites to ask to become default handlers for protocols (recommended)".
Return to mail.drew.edu and follow the steps above.
Set Google Chrome as the program Windows 10 uses for mail links
Click the Start button, start typing "Default Apps" and choose that when you see it.
Click on the app currently listed under Email.
Choose Google Chrome.
Change the default mail setting in Safari
Set the default email app or web browser on your Mac
Install Google Notifier
Installing Google Notifier will change your default mail setting in all browsers (Chrome, Firefox and Internet Explorer), but it does require you to use your device password if you have enrolled in Duo Security.
In any browser, navigate to Google Notifier.
Choose the Notifier download file for your operating system (Windows or Mac).
During the install, choose a standard installation (defaults to "Use for outgoing mail").
You will be prompted for your username and password. Enter your full email address (name@drew.edu) and your password. If you have enrolled in the Duo Two-Factor Authentication service, use your Device Password instead.
The next time you click on an email link, you will be directed to Gmail.