Skip to end of metadata
Go to start of metadata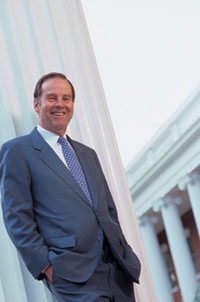 President, Drew University, 1990-2005.
Thomas H. Kean was born on April 21, 1935. Kean received his B.A. degree from Princeton University and his M.A. from Columbia University Teachers College. He taught private school in Massachusetts before entering politics.
Kean was a member of the New Jersey Assembly from 1968-1977. He was elected governor of New Jersey in 1982. As Governor, Kean was rated among America 's five most effective state leaders by Newsweek magazine; noted for tax cuts that spurred 750,000 new jobs; a federally replicated welfare reform program; landmark environmental policies, and over 30 education reforms. He delivered the keynote address at the 1988 Republican National Convention. He was re-elected for a second term by the largest margin in state history. Kean served on the President's Education Policy Advisory Committee and as chair of the Education Commission of the States and the National Governor's Association Task Force on Teaching. He holds more than 25 honorary degrees and numerous awards from environmental and educational organizations.
In 1990, after completing two terms in office, Kean became president of Drew University in Madison, New Jersey. While President of Drew, Kean has served on several national committees and commissions. He headed the American delegation to the UN Conference on Youth in Thailand, served as Vice Chairman of the American delegation to the World Conference on Women in Beijing; and served as a member of the President's Initiative on Race. He also served on the National Endowment for Democracy. He is chair of the Newark Alliance and the National Campaign to Prevent Teen Pregnancy and former chair of the Carnegie Corporation of New York, Educate America, and the National Environmental Education and Training Foundation.
On December 16, 2002, Kean was named by President George W. Bush to head the national commission to investigate the terrorist attacks of September 11, 2001.
Kean is on the board of a number of organizations including the Robert Wood Johnson Foundation and the National Council of the World Wildlife Fund. He is also the author of The Politics of Inclusion, published by the Free Press. He writes a regular column for The Star Ledger with former Governor Brendan Byrne and appears as a regular commentator on New Jersey Network News. His wife is the former Deborah Bye of Wilmington, Delaware. They have twin sons, Tom and Reed, and a daughter, Alexandra. The Keans live in Bedminster, New Jersey.
Courtesy of the Drew University Archives