Skip to end of metadata
Go to start of metadata
Drew Special Collections and University Archives
A collection of materials of the political biographer Bela Kornitzer, including manuscripts, correspondence, photographs, and taped interviews.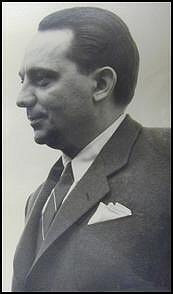 Hungarian-born Bela Kornitzer (1910-1964) achieved prominence in this country as a journalist and author of several highly acclaimed political biographies. This archive of his work, containing manuscripts, correspondence, photographs, and taped interviews, is a valuable resource for students of mid-20th century political and social history.
Kornitzer was an author and freelance writer who left his native Hungary after fleeing first the Nazis and then the Communists. A political columnist for the Hungarian Parliament until the German occupation, he later held a position in the postwar Nagy government, but was ousted from office when the Communists assumed power in 1946. Kornitzer arrived in the United States in 1947, learned English largely from going to the movies, and almost immediately began to write a series of magazine articles, based on interviews with leading public figures, that would launch his career as an American political biographer.
Kornitzer sought out and interviewed the most prominent men of the time in politics, science, religion, and the arts. Among these were Presidents Truman, Eisenhower, Kennedy, Johnson, and Nixon, Douglas MacArthur, Billy Graham, Richard Cardinal Cushing, Sam Rayburn, Robert Frost, Albert Einstein, Winston Churchill, Cecil B. DeMille, Felix Frankfurter, J. Edgar Hoover, Joseph Pulitzer, Jr., Ralph Bunche, Norman Cousins, and Walter Annenberg. His approach during the interviews was to ask each subject to talk about his father. Kornitzer's numerous articles and books based on these interviews explore the dynamics of families, focussing specifically on the father-son relationship, and its role in molding the characters of some of the most distinguished men of the time. He theorized that the essence of our democracy is reflected in the tolerant democratic attitudes prevailing in the typical American family.
In 1991, Bela Kornitzer's sister, Mrs. Alicia Karpati, donated to the Drew University Library the archive of his work. In addition to copies of Kornitzer's articles and books (as well as many translations of these), the archive contains roughly 240 cassette tapes and 35 phonodiscs of interviews; 34 boxes of correspondence, newspaper clippings, and typescripts, as well as notes, documents, and interviews supporting Kornitzer's research; 5 folio scrapbooks with clippings, photographs, transcripts of radio interviews with Kornitzer himself, publicity for and reviews of his books, and proof copies for the designs of dustjackets; and more than 40 signed or dedicated photographs of public figures, many inscribed to Kornitzer. Mrs. Karpati has also created an endowment for the Bela Kornitzer Award, to honor her brother and to recognize his achievements as a journalist and author in Hungary and the United States.
The Bela Kornitzer Collection's finding aids include a checklist of the contents of the collection, and a list of the framed photographs, identifying each subject (Finding Aids: PDF, HTML). See also the online exhibit: Bela Kornitzer's Great American Heritage: A Journalist and Five Presidents.