Skip to end of metadata
Go to start of metadata
Endnote online offers a Capture Reference button that you can use to get citations from recognizable documents displayed on a web page.
Installing the Capture Reference tool
In general browsers
To install it on Internet Explorer, Safari, and Mozilla (but not Chrome), go to the Download tab in Endnote online, and choose Installers.
The first item on the Installers screen is the Capture Reference bookmarklet.

Make sure your Bookmarks or Favorites (depending on the browser) bar is open. Click on the bookmarklet and drag it into the favorites/bookmarks bar at the top of your browser. If asked whether to install it, choose yes.
In Google Chrome
To add the Endnote helper extension to Google Chrome, go to the Google Chrome Web store: https://chrome.google.com/webstore/category/extensions
In the Chrome Web Store search for Endnote and select Capture Endnote Reference. To install it, click on the Add to Chrome button next to it.

When asked for permission to add it, Choose Add extension
Using the Capture Reference tool
When searching a database, go to a page that only shows one item.
Then click on the Capture Reference bookmark, or the Endnote icon 

You will be asked to sign in to Endnote web if you are not already, and then the Capture Reference screen will come up.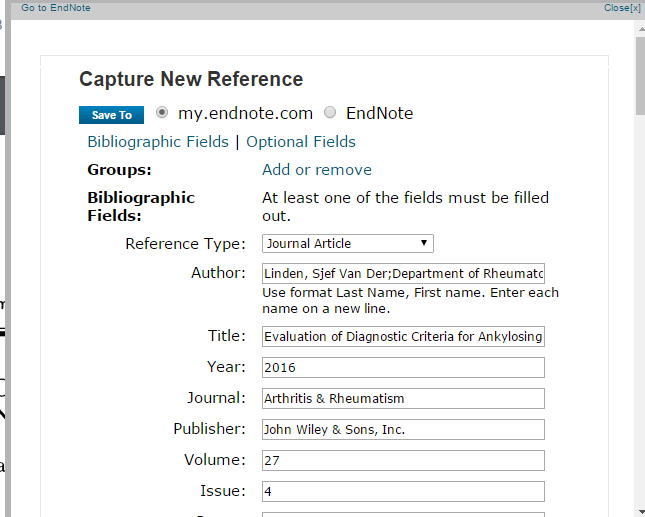 Verify the information and click Save To.