...
"The Forest" was inherited by Gibbons' only son, William Heyward. He had moved back to Savannah, and supported the Confederates in the Civil War. Returning a broken man, he sold the vacant house in 1867, to Daniel Drew, a self-made capitalist and devout Methodist, who purchased the estate for $140,000, for the purpose of establishing the Drew Theological Seminary, named in his honor. The Gibbons mansion was renamed Mead Hall, in honor of his wife, Roxanna Mead.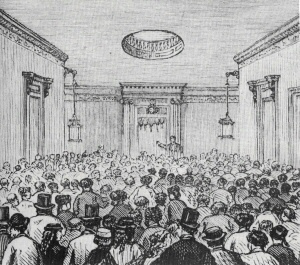 Image Removed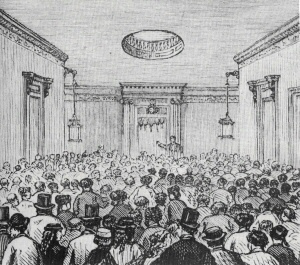 Image Added
Mead Hall rooms were declared "nearly perfect" for accommodating the main functions of the new seminary, but there were continual changes over the years as the seminary grew and transformed into a university at the same time (1930) the Rose Library to the east of Mead Hall was built to blend in the same style. Mead Hall was listed on the state and national historic registries in 1976. A horrific fire on August 24, 1989, which burned for 23 hours, tested the commitment to Mead Hall as an important architectural landmark. With generous insurance money and other support, the fire gave the university the opportunity to fully engage in a three-year extensive and complete historical restoration. Mead Hall was rededicated in December 1992.
"A Brief History of Mead Hall" previously appeared on the web page of the Friends of Mead Hall.
Other images
Image Added