Skip to end of metadata
Go to start of metadata
The Rev. Samuel Foster Upham
A.B., A.M., D.D., LL.D.
Professor of Practical Theology, 1881-1904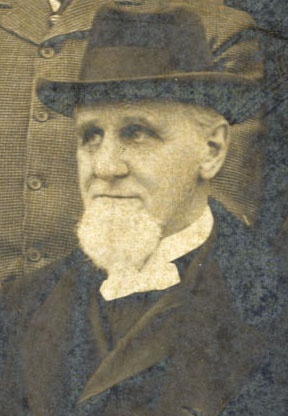 Summary
Samuel Upham joined the Drew faculty as professor of practical theology in 1880, equipped with an A.B. and an M.A. from Wesleyan University and twenty-two years of preaching experience in New England. Upham was one of "the Great Five" revered professors who led Drew for decades, and he also served as librarian. Upham died in 1904 at the age of 70
Article
Dr. Samuel F. Upham, who succeeded Professor Daniel P. Kidder to the chair of Practical Theology in Drew Theological Seminary, for more than twenty-three years (1881-1904) served with distinction in his department, training men to preach the Gospel of Jesus Christ, drawing upon his own experience as a successful preacher and pastor for twenty-five years in New England and New York. Judged by 1940s academic standards he was not a great scholar, but he had by inheritance and training, coupled with a rich and bouyant religious experienced, those gifts of wit and practical wisdom that made him a great teacher in the art of making sermons and in the techniques of delivery. He knew from experience in the rural field as well as in the great cities the various kinds of work the preacher had to do and the moral and spiritual struggles he had to face in the pastorate.
He had a remarkable gift of illustrating the lessons he wished to impress upon the members of his classes, or the audience he was addressing, whether from the pulpit or from the platform. His repertoire of wholesome stories, brimming over with wit and wisdom, was inexhaustible. The movement of his eyebrows, the twitching of his lips, and the swing of his arm, all answered to the quick activity of the mind and ebullient wit of his soul. So he became one of the greatest pulpit orators of his day, and he was one of the ablest public speakers upon the rostrum of a political gathering. He was an ardent member of the Republican party and was a popular speaker in every Presidential campaign while he was a professor at Drew.
His passing to the realm of immortals, in 1904, left a lonesome place in Drew Forest, and a deep sense of loss in the hearts of the Drew men who had sat in his classes, and learned so many lessons of how to preach and practice the Gospel, he so greatly loved and defended. He kept us alert to the dangers confronting us in modern trends in theology and morality.
He believed in extemporaneous preaching with thorough preparation. He was not opposed to having students write out their sermons from "a to izzard" as we used to say; but he insisted that the student should become so familiar with his sermon that he could follow the trend of thought it contained as easily as one could find his way to the post office.
He warned against plagiarism, but declared that originality consisted in gleaning from many fields of thought, grinding the grain, kneading the dough, and baking your own loaf to share with the hearers hungry for the living word. He said, if a preacher believed that all he had to do was to open his mouth and let the Lord fill it-"He will fill it with the wind if you don't study."
He believed a sermon should have points. His general pattern for a sermon was; an introduction; several leading points, with one or more subsidiary ideas and illustrations; and then, the conclusion with what he called the "arousements." He humorously illustrated the framework of a sermon by an analogy, "It should have points like an old horse on whose hips you could hang your hat." But he added-"You must have plenty of meat on the bones, or the people will not take it."
He was himself an example for excellence of what he taught. He read volumes of great sermons and essays on preaching, and kept abreast of important public affairs and current events; yet he maintained a unique originality in his lectures, his sermons, and in his platform addresses.
Dr. Upham was also a master in the art of sermon delivery. He insisted on the student cultivating the grace of delivery as well as the substance and matter of the sermon. He told us we must be like a fisherman who chooses the best bait, or lure, and then casts his line with hook and bait in the most attractive way to catch the fish. I can see him now as he illustrated by his gestures, with his arm, as though he were casting a line in a New England trout stream, or lake, and then he would change his manner and say: "What would you think of a man who, impatient with his lack of luck, would suddenly smite the water with his rod and shout in an angry voice: "Dirn you! Bite!" And then he would remark to the class, "I have seen men act like that in preaching."
Dr. Upham's son, Francis B., Upham, received his B.D. from Drew in 1888 and served as a trustee from 1915 to 1941. (Annual Report, 1941)
Reproduced from The Teachers of Drew, 1867-942, A Commemorative Volume issued on the occasion of the 75th Anniversary of the Founding of Drew Theological Seminary, October 15, 1942. Edited by James Richard Joy. (Drew University, Madison, N.J., 1942)
Courtesy of the Drew University Archives